Custom Made Steel Products Including Cycle Stands & Steel Bollards
Additional Products Offered By Hugh Logan Ltd
Hugh Logan ltd also offer custom made steel products including cycle stands, steel bollards and custom made steel guardrail systems.
Custom Made Steel Cycle Stands
We offer a wide range of cycle stands in varying lengths, heights and designs. We are also able to provide stands to our clients exact specification.
Custom Made Steel Bollards
Our choice of steel bollards with a variety of caps ranging from the simple dome to attractive cast ornamentals enables varying sizes, heights and features to be easily incorporated into a bollard
Hi Vis Strips
On unlit roads the posts at the end of guardrail panels require reflectors in complianace with the clause 2.6.1 of B.S. 7818:1995. All pedestrian guardrail installations must bear an identification marking in compliance with clause 2.9.3 of BS 7818:1995
Hugh Logan Engineering provide various hi vis reflective strips incorporating these BS requirements
RSMX
For sole use on Maxirail
RSHLE
For universal use on unit panels
RS


Stainless Steel Products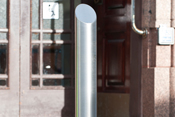 Powder Coating


Highland are a specialist coatings company in Scotland, specialising in bringing together the life expectancy of hot dip galvanizing with the aesthetics of powdercoating. Having these processes under one roof, under one quality management system (ISO9002 registered), and holding one of the few "Approved Applicator" approvals from Akzo Nobel, Dupont and others, the company is able to add real value to the products of its customers. Where requested, the company can guarantee the coating for up to 25 years, a warranty backed by the major powder manufacturers. Guarantees are site specific.
Retention Sockets
RS 50X60 NAL sockets work with our pedestrian guardrails for easy installation or replacing damaged panels within minutes.